Preston North End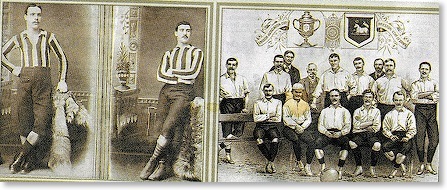 The first Football League champions were Preston North End. They scored forty points from eighteen wins and four draws, and were undefeated in that first season. Aston Villa were second with twenty-nine points, while Stoke were bottom with twelve points.

Preston also got to the Cup Final. On they way they achieved the big beat Hyde 26-0 - the biggest victory in the history of the competition. In the Final they lost 1-0 to West Bromwich Albion.-

The following season Preston became the first team to win the 'double' - the FA Cup and the League. They stayed unbeaten in the league a record which was finally equalled by Arsenal in 2003/4


Record Final


The 1889 a crowd of 22,000 watched the FA Cup Final at the Oval. Many thousands of fans travelled down to London from Lancashire. The kick-off was even delayed until 4.00pm to allow people to
watch the University Boat Race first.

Back in Preston, thousands waited outside the local newspaper offices. When the result came through at 5.55, the cheer could be heard for many miles.